3 Reasons Why You MUST Eat A Healthy Breakfast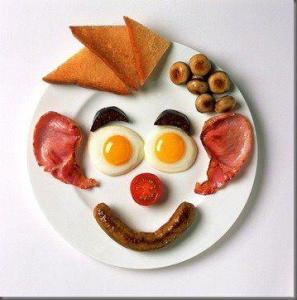 Your mother was spot on when she told you to eat something in the morning. I bet you have heard the saying "break-the-fast?" Eating a healthy breakfast soon after you wake up is powerful for the metabolism a bit more than you might realize.
I can recall my mom saying,"You're going to be hungry later!" At a younger age I really didn't think anything of it. When I look back at it, I can now see where my mom was right.
As a kid and teenager I never realized what would take place or how I'd feel if I were to eat a healthy breakfast to start the day. A big part of me feels that parents should be a necessary component to assist their children's food structure, and I also feel that as the teenage years come, the individual needs to learn what it feels like to make decisions on their own.
Does Cinnamon Toast Crunch or Lucky Charms ring a bell? That bell used to ring sporadically when I was a kid. When I spent the night at a friend's house I'd have a sugar satisfied soul. At home, a healthy breakfast had the tendency sink my smile.
It took me a while to realize the power of feasting on a healthy breakfast soon after the body rises in the morning.
Here are my top three notable reasons  to eat a healthy breakfast…
Blood Sugar Stays Stabilized

Keeping your blood sugar balanced is the nuts and bolts! Maintain this and you have the magic key to boosting your metabolism, shedding extra weight, improving mood and focus, enhancing sleep, and keeping hormones in check.

Energy Levels Are Anchored

Have you noticed how your energy levels go up and down through the day? Eating a consistent healthy breakfast provides you with secured and steady energy (blood sugar) throughout the day. Skipping breakfast means you are disrupting your fuel intake.

Morning time fuel sets the energy tone for the entire day

.

Sets A Great Example

I enjoyed the occasional unhealthy breakfast as a kid, but my parents did a pretty good job modeling what a healthy breakfast should look like. Making our own nutritional decisions is essential as we age (as I mentioned above), but I feel that children need to have parental leaders to demonstrate what a healthy morning routine should look like. I am living proof of how their modeling carried over years later. It also assists fellow roommates and friends!
Do you feel that eating a healthy breakfast is on your to-do list?
Gently remind yourself of my top three reasons as you continue your breakfast adventure. It will begin to transition from something you HAVE to do into something YOU LOOK FORWARD TO!
Photo Credit: http://www.jokeroo.com/pictures/other/966934.html