How To Relieve Stress
I can recall using foam bats to hit my family over the head with…for therapeutic reasons of course. I remember all of us being apart of a few counseling sessions some years ago, allowing us to remain open and less stagnant within family dynamics. Back then I had no clue how to relieve stress, but I think my mom was onto something.
How often do you think about how to relieve stress? Once a week? Everyday? All of us have weekly stressors in our life. This can include mental, emotional, and physical stressors. I feel that it's quite ok to have our occasional turmoil, but when life tension remains elevated, headaches occur, monkey mind ensues, and our metabolism begins to slowly decline.
Imagine being on a roller coaster. Can you picture the ups and down? I want you to think about the
constant ups and downs on a coaster being similar to what's taking place within your body's physiology when life stressors are constant. The adrenaline you experience may feel warm and invigorating, but the longer you stay on that coaster, the more you are sending your body into hormonal havoc (weight gain, cravings, blood sugar dysregulation, sleep disturbance, decreased metabolism, digestive upset, spare tire syndrome, etc).
Now imagine being on one of those Nascar type race tracks. (you don't have to like Nascar to get in the moment here). You can see the long, oval, and open-flat roadway. Take a second to notice what it feels like to maintain a fast yet controlled speed around that track. You might slow down just a bit when making the turns on the end, but not much. You are driving in control, downshifting a little here and there, and keeping your momentum at a nice pace. When your weekly stressors are minimal, your body's metabolism is able to remain revved, not slow down too much, and is able to bounce back quite quickly.
Now that you have a simplistic understanding of what elevated stress does to us, let's look into how to relieve stress. All of the ones I have listed below don't need a physiological explanation. I am sure you can guess how each one of these would benefit your stress levels.
You may have read various stress reduction methods and tried a few out already, but consider a few of these
ones you don't typically read about…
Go Dancing (this is my super duper #1 method!)

Yes…dancing! Motion will shift your emotion. Grab a friend and go move your feet a bit. Give your buddy a high five, toss your hair around with your girls, and don't worry about looking good. You might be pleasantly surprised how dancing reduces anxiety, diminishes monkey mind, and creates a completely different internal state of being.

The Zero Distraction Outdoor Meal

Choose one meal a day where it's just YOU. No tv, cell phone, reading, nada! Sit outside by yourself and focus on simply enjoying your food, nature, and the thoughts that pass by. Sound boring? Ridiculous? Apeshit? If you don't already practice this daily, I challenge you to give it a whirl. It's not at easy as you might think, but will allow your brain to unwind over time.

Chew It Up

Chewing food thoroughly provides digestive happiness, plain and simple. Most people are always in a hurry, especially when eating. Think about how much gas, bloating, and digestive upset you get and have no idea why. This one is another one of my favorites. It's very similar to the challenge above.

Be Playful (Laser Tag Anyone?)

I am not a fan of using guns, but when I have played laser tag in the past, it created an interesting shift for me. Something that includes physical exertion can provide an instant 'stress release'. Plus, getting your ass kicked by twenty kids tends to soften or make you forget about the argument you just got into with your significant other. If that does't speak to you, choose something else that is playful: board game with friends, tickle someone, try a new sport, take a pottery or art class, go for a walk with zero destination.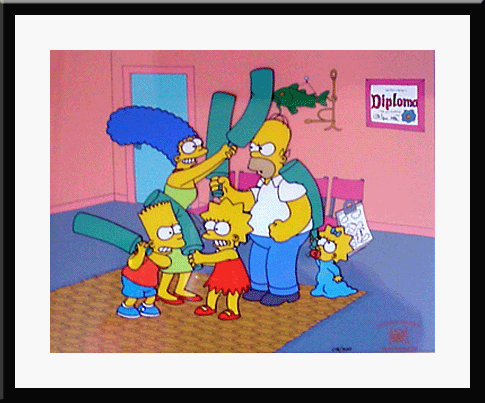 There are soooooooo many ways regarding how to relieve stress…
You and I both have weekly stressors. Know that you are capable of placing emphasis on strategies to bounce back. Begin practicing one of my suggestions above and start noticing how you feel. Are there more than one ways on how to relieve stress? Of course. Focus on what works for you and I challenge you to get a little creative with it!
Photo Credit: http://www.animationartwork.com/artwork/20thcentury_FOX2.sku4777