Sea Salt Your Day To Keep The Nasties Away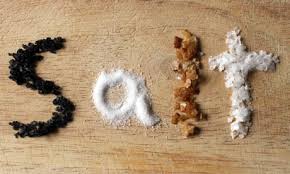 Many people have more fear of using salt in their diet compared to public speaking, heights, and spiders.
Have you been told to lower your salt intake because of high blood pressure? Do you feel that salt will dehydrate you and shrivel you up like a prune? (I am not a medical doctor, and am not giving out any type of diagnosis here, just sharing my experience and advice)
Using the right type and amount of the right kind of sea salt is NECESSARY for your body to function on a daily basis! Quality sea salt packs a serious metabolic punch that you should not miss.
I am the type of person and health practitioner that enjoys knowing WHY and HOW something hinders or helps the body.
Doesn't it seem like many "educators" simply state things like "don't eat salt because it raises your blood pressure," or "you should eat low carb because you need to keep your blood sugar stable."
Those are all statements without true explanation, in my opinion.
Many times people just repeat what they have heard from others. "You should be eating a raw kale salad everyday because it's full of nutritious goodies." Once again, just a statement that goes nowhere.
Thanks to the work of Dr. Ray Peat and the Metabolic Blueprint course I have taken from Josh and Jeanne Rubin, my views on many things have shifted…especially my view on salt.
How worried are you about the common blood pressure fear? I'd like to shed some new light on things. [Read more…]