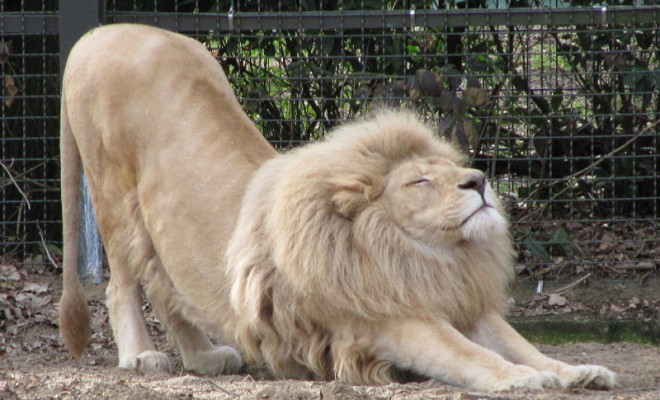 Ways to Increase Flexibility : Part 1
I was stretching a client the other day at his home and I looked over at his beautiful chocolate lab as we were in motion. Low and behold, Cocoa was performing a stretch of her own. (almost exactly like the lion above) It was one of those moments that makes you smile and internally chuckle. I enjoy providing others with specific stretching and flexibility techniques; ones that I have found to get results, whether it be with my clients or myself. The flexibility work that I personally do and provide to my clients is Active Isolated Stretching, with an added emphasis on  osteopathic stretches I have been taught, known as ELDOA.
I often get asked… "What stretches should I do?" "How long should I stretch for?" "Should I put mustard on my stomach and then wrap myself into a pretzel?"
Don't beat yourself up about the most exact, precise, and scientifically proven way to change your flexibility. Yes, specific  stretching techniques can provide the body with muscle lengthening, vertebral decompression, and an overall sense of relaxation. Most of your personal stretching power lies within developing a weekly schedule that you enjoy, holds your interest, and is easy to stick to.
Here are three tips you can start with to help move your flexibility in a new direction…
 Develop A Routine That Works for YOU

Pick days and time that you know are doable

. Mornings are ideal for people who enjoy that early boost, while evenings are perfect for others wanting to wind down.
Learn three stretches that you know you will benefit from. Practice those for a few weeks. Add three more, and keep building on your flexibility. Soon you will have an arsenal of stretches to choose from!
Discard Limitations. Is your range of motion  embarrassing compared to most people? Are you avoiding a yoga class because your classmates would put Gumby to shame?? It doesn't matter.

Ease your thoughts of comparison and self judgment

. Simply start. Remind yourself that things change with time.

How Do You Feel?

Begin to notice what it feels lik

e to take fifteen minutes to stretch your upper and lower limbs…especially after you are done!
After your stretches, start tuning into the feeling of being a bit more limber, mobile, and a reduced feeling of tightness. This progress adds to your well being each time.

Soak It Up

Start using Epsom salt baths

, and experiment with higher doses. (1 cup to even 8 cups!) This great natural source of Magnesium almost instantly provides a relaxation to the muscles and nervous system.
Soaking in Epsom baths is one of the easier and cheaper ways to reduce inflammation, assist blood flow, and reduce overall tension. This stress-free source soaks directly into the skin and body (which means it bypasses digestion),  acting almost instantly as a natural tranquilizer.
I remember dressing up as Richard Simmons for Halloween one year back in college. I recall getting up on stage at school for a contest and performing a very random dance routine I decided to show off with to the large crowd. I took first place for most original, but there were two repercussions. I ripped a hole in the lovely butt huggers I had on, and my damn left calf was pulled a bit; probably a little pissed off at me for trying to re create Richard's dance videos. If only I had warmed up with a bit with some 80s  Simmon's style stretching.
There are various ways to increase flexibility. Start using these three flexibility recommendations today and enjoy the process. Stay tuned for Part 2!
photo credit: http://en.wikipedia.org/wiki/Flexibility_(anatomy)