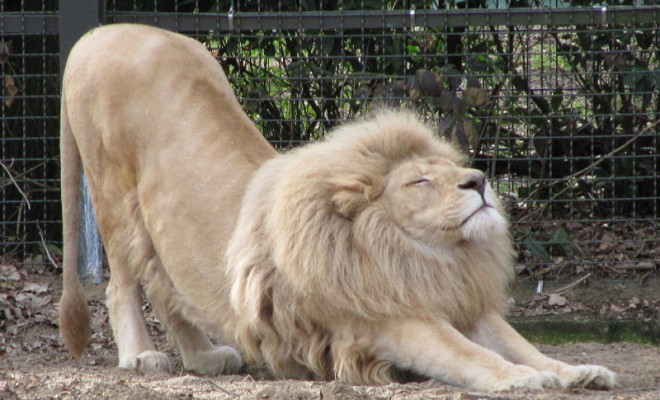 Ways to Increase Flexibility : Part 1
I was stretching a client the other day at his home and I looked over at his beautiful chocolate lab as we were in motion. Low and behold, Cocoa was performing a stretch of her own. (almost exactly like the lion above) It was one of those moments that makes you smile and internally chuckle. I enjoy providing others with specific stretching and flexibility techniques; ones that I have found to get results, whether it be with my clients or myself. The flexibility work that I personally do and provide to my clients is Active Isolated Stretching, with an added emphasis on  osteopathic stretches I have been taught, known as ELDOA.
I often get asked… "What stretches should I do?" "How long should I stretch for?" "Should I put mustard on my stomach and then wrap myself into a pretzel?"
Don't beat yourself up about the most exact, precise, and scientifically proven way to change your flexibility. Yes, specific  stretching techniques can provide the body with muscle lengthening, vertebral decompression, and an overall sense of relaxation. Most of your personal stretching power lies within developing a weekly schedule that you enjoy, holds your interest, and is easy to stick to.
Here are three tips you can start with to help move your flexibility in a new direction… [Read more…]