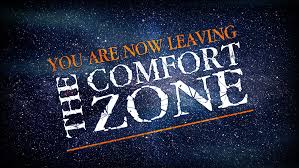 Motivational Quotes
Is there something specific that you have been wanting to accomplish or a fear you have been wanting to reduce? Maybe sky diving, traveling to another country alone, telling someone you love them, confronting death or failure, or public speaking?
I can recall getting strong anxiety and my body would start sweating when I would think about a future possible moment when I MIGHT have to speak in front of a crowd. My fear of public speaking has drastically changed due to my actions.
I feel that quotes can be used as a stepping stone towards us taking action in life. I would have to say that one of my favorite motivational quotes is by Neal Donald Walsch…
"Life begins at the end of your comfort zone."
We could probably fill up a dictionary when it comes to motivational quotes. This specific quote above gives my brain and body a reminder that I still have things that I would like to accomplish throughout the rest of my journey.
One of my relatives bought me a magnet with this quote on it some time ago, and I still love looking at it whenever I need a verbal self reminder.
For me personally…I enjoy living life with minimal fears. I like to [Read more…]