Baked Apples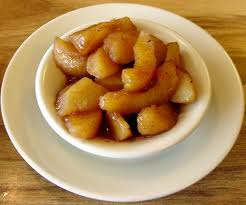 I love the smell of festive fall dishes that include ingredients such as apples and cinnamon. During this time of year, baked apples are an easy, healthy, and versitle fruit dish you can whip up.
Remember…using fruit is an optimal carbohydrate choice for restoring glycogen in the body, improving the thyroid, and boosting your metabolism.
Many fruit options are out of season during this time of year, so start using apples as your weekly healthy carbohydrates source.
Once you have a dish of baked apples prepared, you can…
Stir them in plain yogurt
Make a compote
Eat them as a side dish with your meal
Put 'em in a pie
Spoon them over ice-cream (Three Twins Madagascar Vanilla highly recommended)
Mix them in a smoothie
There are various recipes out there for baked apples. Feel free to modify the recipe below in any way that suits your liking.
Here is one that is very simple to prepare…
1 Glass Baking Dish (8″ or 7 x 11″)
1 Tbsp Coconut Oil
6-10 Organic Apples (depending on size of apples and dish you have)
2-3 Cups Organic Apple Juice
2 Cinnamon Sticks
1/2 Cup Sugar
*Heat oven to 350
*Mix apple juice, cinnamon sticks, and sugar. Bring to boil,
then medium heat for 10 minutes
*Coat baking dish in coconut oil
*Peel apples, slice out core, and cut into desired chunks
*Fill baking dish with apples. Pour juice and cinnamon sticks
over apples
*Bake for 30 minutes or until apples are soft
It's time to dive into your baked apples!
To keep my blood sugar stable during sleep, I put my baked apples on top of Fage plain greek yogurt as a bedtime snack.
Eating baked apples right out of the oven is a delightful winter treat. Keeping baked apples in the fridge for leftovers will provide you with a quick way to have healthy carbohydrate choices nearby.
Send me your suggestions on any baked apples recipes you have spiced up with a twist.
Check out the many varieties of apples on the shelf right now and start filling up your house with the lovely aroma of a baked apples recipe. Bon appétit!